CD DVD gondola island displays in all shapes and sizes.
---

CD DVD Spinners for the floor and a counter top.
---

Gondola Countertops are great for Convenience a Store, Gas Station, or Liquor Store cash register counter that will also display small products such as Candy, Beef Jerky, Potato Chips, and also Counter Spinners on the top of the countertop.
---

All types of product display hooks, slatwall hooks & shelf brackets, gridwall hooks, waterfall displayers, adjustable knife brackets, tube brackets, waterfall hangers and a whole lot more. click here
---

Wire shelves, baskets and more for Grid Displays and Wire Grid Systems

Expandable CD DVD Browsers and Bins of al sizes.
---

WIRE CD DVD baskets for wire slatgrid and wire grid panel systems.
---

The most popular store fixture manufactured in the US is Gondola Shelving. We have gondolas available in a sngle sided and double sided configuration. Heights start out at 36" high and run as high as 96 inches and above wither by special order or with the use of upright extensions. We have shelf depths that start out at 8 inches deep and available in depths as deep as 30 inches.
---
Four Way Island, I Shaped, H Shaped, and T Shaped wire grid island type displayers for all types of merchandise. One good thing about these types of displays are they are see through so shoppers can get a better view of your whole store.
---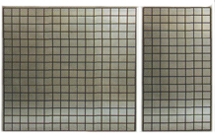 Used to create all types of wall and island merchandisers and displayers.